A Must Read For Every Parent & Professional Who Deals With Children
Punishment on Trial:
A Guide to Child Discipline
By
Ennio Cipani, Ph.D.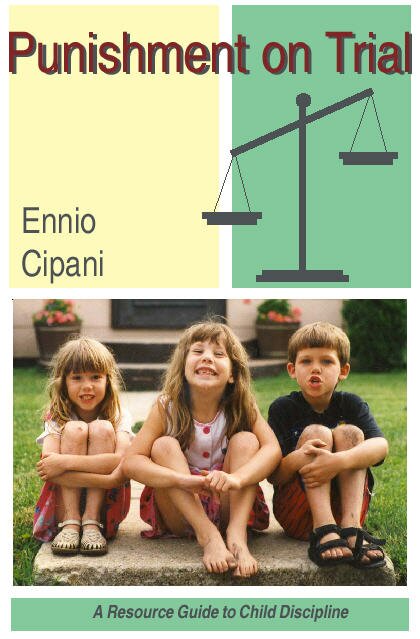 Do you:
• Know how to punish behavior, not the child?
• Equate spanking with punishment?
• Believe punishment does not work with your child?
• Hear from professionals the punishing children for misbehavior is abusive and doesn't work?
• Feel guilty when you punish your child for some misbehavior, but have been told that such is bad parenting?
If you answered "yes" to one or more of the above questions, this book may be the definitive resource you have been waiting for.
Go to www.ContextPress.com and search "Cipani." Read excerpts from the book by clicking on the introductory chapter at the bottom of the page.
Table of Contents:
About the Author vi
Preface vii
Acknowledgements viii
Cases x
Introduction 11
Section I: What is Punishment? 17
Section II: Exposing Myths About Punishment 23
Myth #1: Punishment Does Not Work 24
Myth #2: Punishment Temporarily Suppresses Behavior (and Therefore Is Not Worth the Effort) 44
Myth #3: Punishment Causes Problems for a Child's Emotional Development 54
Myth #4: Punishment Is Not as Effective as Reinforcement 72
Myth #5: Time-out Does Not Work 86
Section III: Six Basic Principles of Punishment 101
Principle I: There Must Exist a Behavioral Contingency 101
Principle II: Be Consistent 106
Principle III: The "Even Swap" Rule 113
Principle IV: Remove Competing Consequences 117
Principle V: Be Specific 120
Principle VI: Prove It Works 121
Section IV: A Responsible Use of Punishment 125
References 135
Visit Dr. Cipani's website
Dr. Cipani is on the faculty of Alliant International University
Buy the book online from Context Press or phone (775) 746-2013. This book and other books by Dr. Cipani are also available at Amazon.com
Context Press
Amazon.Com
Other books and products by Dr. Cipani:
Functional Analysis of Behavior (FAB) Model for School Settings
Dr. Cipani's books are available at E-Campus.com