CAMBRIDGE CENTER FOR BEHAVIORAL STUDIES
HOW VALUABLE IS YOUR TIME?
DO YOU NEED CEU'S FOR YOUR UPCOMING BACB RENEWAL?
EARN 3.5 BACB CEU'S FOR ONLY $60 IF PURCHASED BY MAY 31ST
($15.00 OFF – COURSE MAY BE TAKEN AT ANYTIME AFTER PURCAHSE)
WWW.BEHAVIOR.ORG/ONBACE
***DISCOUNT CODE: BAT00000307***
If you experience any problems, please contact Rebekah at [email protected]. Use "OnBACE problem" as a subject line.
OnBACE is the Cambridge Center's program for delivering online video-based tutorials, allowing Board Certified Behavior Analysts (BCBAs and BCABAs) to earn continuing education units (CEUs). The Cambridge Center for Behavioral Studies is approved as a Type 2 CE Provider.
We offer online behavior analysis videos, broken into small segments focused on a particular set of objectives, plus a short quiz between segments. Once a module is purchased, you may return to it whenever you want to review it and access any study guides or other materials associated with it.
Learn from the Experts at the Cambridge Center for Behavioral Studies
Learn Online, 24/7
Earn Continuing Education Credits (CEU's)
Earn a Certificate of Mastery at no extra cost!
Video-based tutorial with video, study guide and testing.
First Module Available:
"Behavioral Treatment of Autistic Children: Ivar Lovaas" In Historical Perspective
Featuring:
Characteristics of Autism (video)
Applied Behavior Analysis for Autism: Beginnings
Behavioral Approach (video)
Ivar Lovaas and Case Studies (video)
Recent Developments in ABA for Autism
BACB® Type 2 CE Provider
The Cambridge Center for Behavioral Studies relies on many dedicated professionals to bring you trustworthy, verifiable information about effective ways to manage or change behavior in the home, school, and workplace. This material, written by experts in behavioral science and reviewed by their peers, many of whom are Directors and Trustees as well as Advisors of the Center, is based on nearly a century of research.
CAMBRIDGE CENTER FOR BEHAVIORAL STUDIES
336 Baker Avenue, Concord, MA 01742, (978) 369-2227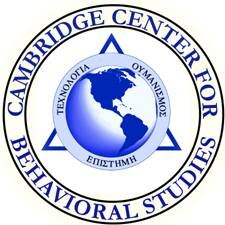 WWW.BEHAVIOR.ORG/ONBACE
MANDATORY DISCLAIMER: The Behavior Analyst Certification Board, Inc.® ("BACB") does not sponsor, approve or endorse the Cambridge Center for Behavioral Studies, the material, information or sessions identified herein.